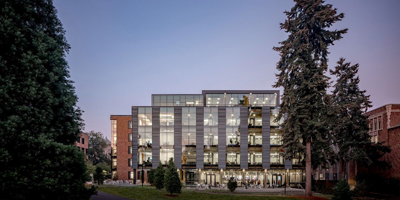 UW's new hardwood lobby will store carbon throughout the life of the building
The new Founders Hall at the Foster School of Business at the University of Washington (UW), Seattle, is a six-story log building that will store more than 1,000 tons (2,000 lb) of CO2 for decades, keeping carbon out of the atmosphere for the life of the building.
Aureus Earth, the world's leading provider of carbon offset incentive programs for the construction industry, announced its first transaction a few months ago valuing long-term biogenic carbon storage in a log building. The transaction was completed in partnership with the Foster School of Business, using the new log building Founders Hall as proof of concept.
Designed by LMN Architects, the building spans 7878 m2 (84,800 square feet), and it incorporates a solid timber structure – cross-laminated timber floors with glulam posts and beams – reducing carbon emissions by more than 90% and integrating carbon by almost 60 % (in structure, envelope and interiors) .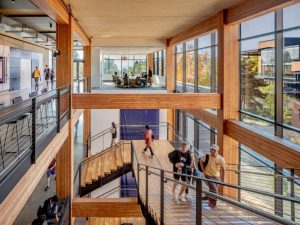 The building design takes advantage of Seattle's climate by integrating natural and mechanical ventilation, with nightly flushing in office spaces, to provide a comfortable environment for building users with minimal reliance on air conditioning. The peeled brick facade combined with carefully placed high performance glazing (with low air infiltration, 0.06 cfm/sf) exposes the wood inside the building while providing views of historic Douglas Fir trees, giving the upper floors of the building an immersive experience with the northwestern forest character of the site.
Other materials used in the building are concrete shear cores and long span steel beams in the classrooms. Other sustainability features are reliance on fossil fuel-free operations, not using the campus steam system, an expected 79% reduction in energy consumption, a 53% reduction water consumption, indigenous and drought-tolerant plantings, bicycle transport facilities and a loan for solar energy. roof.
"Founders Hall…focuses on operational and environmental performance with a 92% reduction in operational carbon. This accomplishment is a testament to the strong shared vision we have developed with the University of Washington, the leadership of the Foster School of Business, our design-build team led by Hoffman Construction, and the amazing collaboration with users, staff academic, designers and business partners. comments Robert Smith, Principal, LMN Architects.
Some of the other companies involved in the project were Magnusson Klemencic Associates with Katerra, Carla Keel and Autoscan for structural engineering services; Civil Engineer, Mayfly Engineering & Design, PLLC; lighting designer, HLB Lighting Design; mechanical and electrical engineer, PAE Consulting Engineers, Inc.; plumbing engineer, Burman Design; accessibility designer, Studio Pacifica; and envelope consultants Morrison Hershfield of McClintock Façade Consulting.