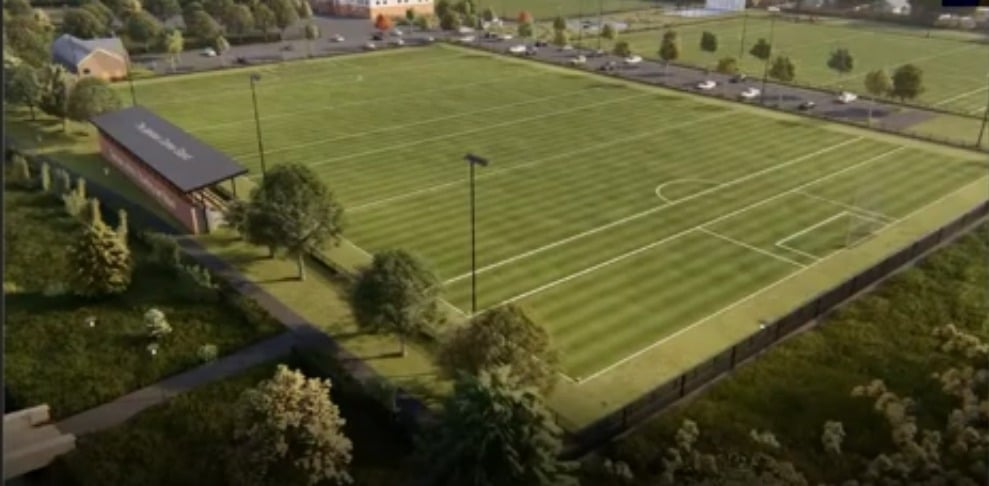 Tyrone village hailed for vision of ambitious new facilities to cope with population boom – Armagh I

Artist's impression of what the new CRDA training ground and spectator stand will look like.

Central Ulster District Council The Development Committee hailed the 'very ambitious' plans being put in place for the future benefit of a small village in Co Tyrone.
Clonoe Rural Development Agency hopes to improve infrastructure in the village, near Dungannonand provide its residents with many places to socialize.
At a council committee meeting, members heard from John Paul O'Neill, who explained the association's plans for the future and how it plans to use the £50,000 funding it has been given granted through the council's discretionary capital grant.
Mr O'Neill explained that more than 400 homes have been built in Clonoe over the past 10 years and said the area has seen a 'population explosion' as a result.
"We have lots of housing estates and roads running through Clonoe but, with the extra population, where should our people meet and socialize?" He asked.
"One of the big things that has been pointed out to us recently is that there is nowhere for young mothers, children and infants to socialize in a safe and playful environment.
"We see these segments of our community continue to grow and we want to put in place additional infrastructure.
"We have met over the past few years to design a plan for the additional infrastructure. We want to develop our own 5km lighted perimeter walkway around the development; community hub meeting rooms and beer garden; large outdoor playground; a wall ball area; a spectator terrace and a covered grandstand that will be fully accessible to wheelchair users and two new football training pitches.
He acknowledged that these were ambitious long-term goals and explained that the first phase would see the creation of a full-sized training ground and spectator stand, where council money will be used.
"The first phase of our plan, for which we are applying for this grant, is to build a full-scale training ground. We are well aware of the ambition of our plan, so what we are looking to do now is put in place a new football training ground," he said.
"There will be spectator fencing around the entire perimeter, ball-catching nets and associated parking and the necessary civil works. We have £300,000 in cash reserves and £400,000 in terms of credit facility, so there is £700,000 waiting and ready to go.
"We are ready to pay for the work we want to do. Design consultants have been appointed and some of the advanced work such as an archaeological excavation and site clearance have been completed. »
Mr. O'Neill explained that the CRDA hopes to appoint a contractor in the first quarter of next year, with work expected to begin in the spring and hopefully be completed by late summer or early fall 2023.
He added: "We believe we are well placed to realize the first phase of our project and we appreciate the opportunity of the board to secure these funds and help make our vision a reality."
Independent Councilor Dan Kerr said it was clear a 'long term plan' was in place and said Clonoe should be treated as a village going forward.
"Areas are going up left, right and center and there's no better place to create that infrastructure than within the football club itself," he said.
"The club provides a lot of resources to the local community and, putting aside any rivalry, I wish you the best of luck with this project."
SDLP Group Leader Cllr Malachy Quinn said: "It was a great presentation. It will be a fantastic install and I hope I know that is a long term goal, but it is something we can help with and I will give you all the support I can.
Cllr Dominic Molloy wished CDRA all the best with his plans and also told the chamber "it's good to see he involves the wider community and isn't just football focused".
His Sinn Fein party colleague, Cllr Niamh Doris, welcomed the thought given to people with disabilities in these plans.
"Clonoe has always gone above and beyond when it comes to thinking about people with disabilities and how they could be involved in their communities," she said.