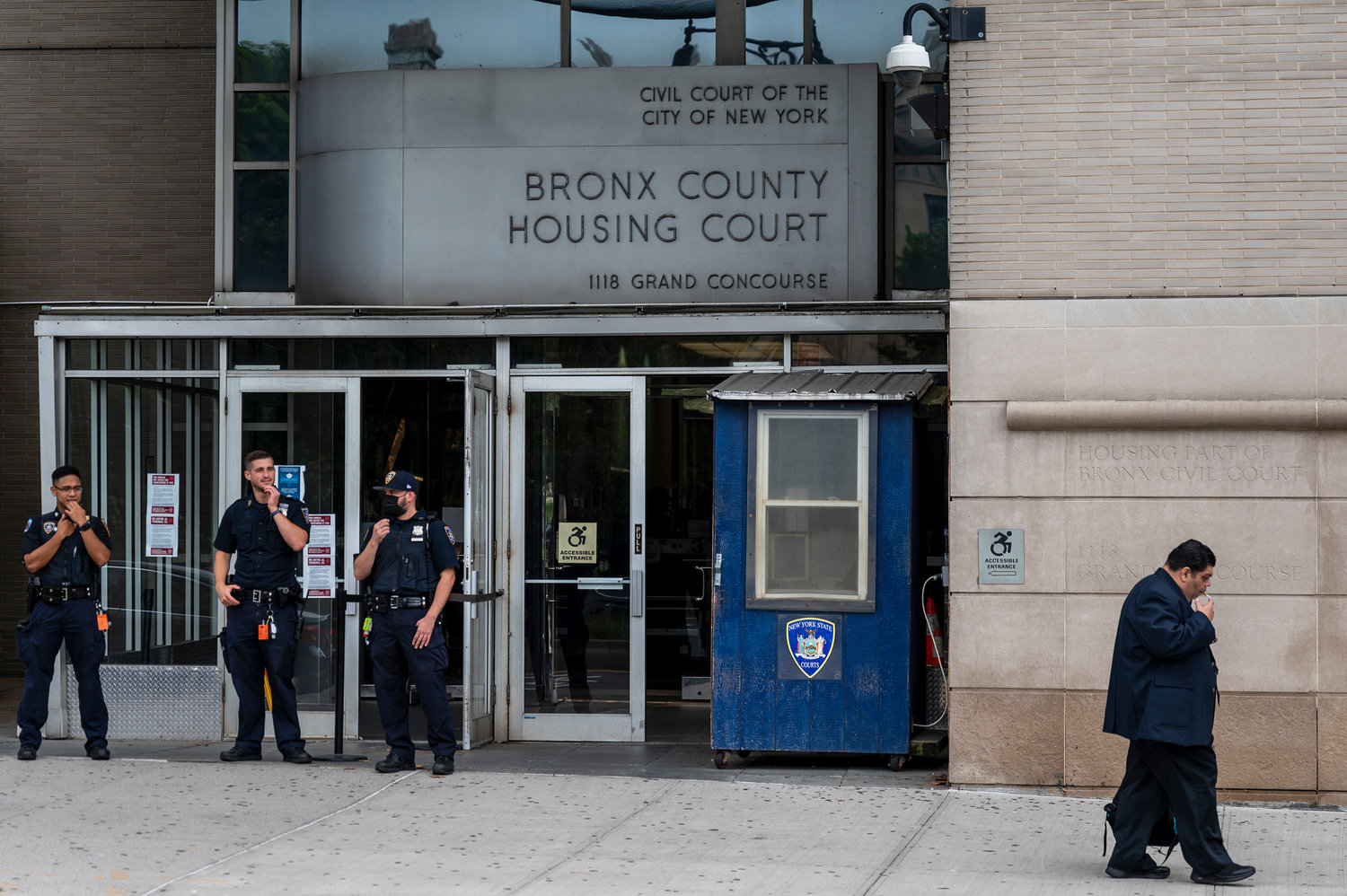 Thousands of people threatened with deportation are denied a lawyer | The Riverdale Press
By Abigail Nehring
A dangerously long escalator carries attorneys and tenants to the second floor of the Bronx Housing Court on a Wednesday afternoon. They walk away cautiously and some part ways towards room 250, where a bank of computers awaits them. The help room is equipped with photocopiers offering 15 cents per page, stacks of court forms and videoconferencing stations – some of the services available to the 136 households summoned to virtual admission each day for an eviction case. in the Bronx.
There is a muffled din in the makeshift courtroom. Most log on for their court appearance from home.
These proceedings are still taking place on Microsoft Teams in the Bronx, although the city's other housing courts have taken over in-person litigation. For those earning 200% of the federal poverty income level or less, this is a critical opportunity to connect with one of the many nonprofit law firms responsible for screening tenants for representation. free legal.
Lawyers say the city's Right to Counsel Act – the first of its kind enacted five years ago – falls far short of its founding vision of universal access to justice. Since March, lawyers have officially reported turning down 6,900 eligible cases due to capacity constraints, public information officer Lucian Chalfen said in an email to The Riverdale Press. This figure represents approximately 11% of the total number of eviction cases in the city's housing courts during the same period. But Housing Court Answers director Jenny Laurie said the number of people falling through the cracks is almost certainly higher.
"We get calls from tenants coming to court on our hotline," Laurie said. "Some people call us before going to court. Some people call us after their first appearance. What we're hearing now is that most tenants who go to court don't get a lawyer.
Do it yourself
housing court
There are now more than 3,000 new eviction cases each month in the Bronx, the highest rate in the state, but still only about half the courts saw before lawmakers called for a moratorium on evictions in March 2020. At this time, New York City was still rolling out its new Right to Counsel program for a limited number of ZIP codes.
With the program now fully operational, "there is a fundamental mismatch between business volume and capacity," said Raun Rassmussen, executive director of Legal Services NYC.
The situation at 2707 Sedgwick Ave. gives an indication of the general trend. There are six active eviction cases filed between May and September this year against tenants at this address, a six-story building with 69 units purchased by Kenny Nasab for $7 million in 2007.
There's a staggering concentration of open housing violations here – 112 in all, ranging from plumbing issues and cracked plaster to heating and hot water failures.
Only one of the six tenants facing eviction has so far retained the services of an attorney, according to Unified Court System records online.
A household facing eviction next door at 2734 Sedgwick Ave, also owned by Nasab, also failed to retain the services of a lawyer. The admission of the case took place last week and will now continue on the fifth floor where parties in Housing Court reach a resolution or go to trial.
Continuing in Nasab's portfolio, there are three more eviction cases pending at 2849 Webb Ave. and one at 3460 Bailey Ave. In total, Nasab — which owns more than 40 buildings in the Bronx and was once on the Public Counsel's Worst Landlords list — has brought eviction lawsuits against 11 households in those four buildings in Kingsbridge since May, and all households except two represent themselves.
Around the corner, there are 13 active eviction cases at 2755-69 Sedgwick Ave., a pair of interconnected five-story buildings bought together by an LLC in 2014 for just over $14 million. Eight of them go through the Bronx Housing Court with unrepresented tenants. There are 104 units and 110 open HPD violations at this property.
Universal access?
The right to counsel was enshrined in the criminal justice system 60 years ago with Gideon v. Wainwright, but the slogan is somewhat inappropriate for what the New York City Right to Counsel Act accomplishes.
The law requires the city to provide tenants facing eviction access to an attorney, but it does not guarantee this and does not include any private right of action.
"This program is really new. We need to keep an eye on its long-term success," said Rassmussen of Legal Services NYC.
"It was not disputed," he said. "I think the tenants could make a good challenge if they show that they tried to get a lawyer and didn't get one. There may be arguments against individual judges or at the appeals level if there are cases that should not have been allowed to proceed.
Lawyers from Legal Services NYC, which has assembled a team of about 50 attorneys under contract with the city's Civil Justice Bureau to provide free representation to tenants in Housing Court, recount growing pressure and attrition constant that has eaten away at their practice over the past two years.
"The big resignation has affected us as well," said Martha Kellogg, director of Legal Services NYC's Lawyer Rights Unit. "Some experienced people have left and their workload is not going away. They need to be transferred to other lawyers here. It is difficult to create a new relationship. It's hard for the whole team to lose people.
"The Housing Court has picked up the pace enormously. Some tenants have higher arrears and cases may be more difficult to resolve due to this delay. It's a stressful time and the stakes are high. The consequence is expulsion.
Then and now 'we
were sardines
In March, the Courts Administration Office ignored pleas from lawyers to slow the pace of proceedings, instead ordering the courts to see cases through to resolution, even when eligible tenants are denied a free lawyer.
Lawyers for the NYC Right to Counsel Coalition had warned of an unprecedented caseload in a letter to Chief Justice Janet DiFiore weeks after the moratorium was lifted. Eviction warrants started pouring in from the Housing Court again this winter and spring.
Cases resulting in a warrant being executed by city marshals represent a fraction – less than 10% – of the total eviction claims that landlords bring against tenants in Housing Court. A task force appointed to expand access to civil legal services reported in 2014 that 95% of eviction claims were filed by landlords who hired an attorney to litigate the case. By comparison, less than 1% of tenants retained an attorney to fight eviction claims that year.
A cost analysis by NYC Right to Counsel concluded that it would cost approximately $500 million to fully fund universal access to free counsel in the city's housing court, more than double what the city has spent on the program over the past two fiscal years.
"What they get is brief legal advice, which is not a substitute for having a lawyer present from start to finish of a case," said Pablo Estupiñan, coordinator of NYC Right to Counsel. "There is a paradox that the city celebrates the success of the right to an attorney, and at the same time the courts deny this right to tenants. It's a complete mess across town. There is no consistency as to what tenants can expect from the Housing Court.
Siya Hegde, who works in the civil action practice at Bronx Defenders, said attorneys were used to chasing after tenants in the halls of the city's housing courts, and continued to do so after the city began to gradually implement the right to a lawyer.
The hallways were cacophonous, says Hegde: "I mean, we were sardines.
"The Housing Court should not just be an eviction forum. This is not the function it was designed for in the 1970s when Bronx Housing Court came online. The goal was not to deport people. It was about providing a level playing field, an equalizer for tenants to air their grievances and providing mechanisms for landlords to address them. And so, when you really think about what the landscape has become…"
Abigail Nehring is a corps member of Report for America, a national service program that places reporters in local newsrooms.