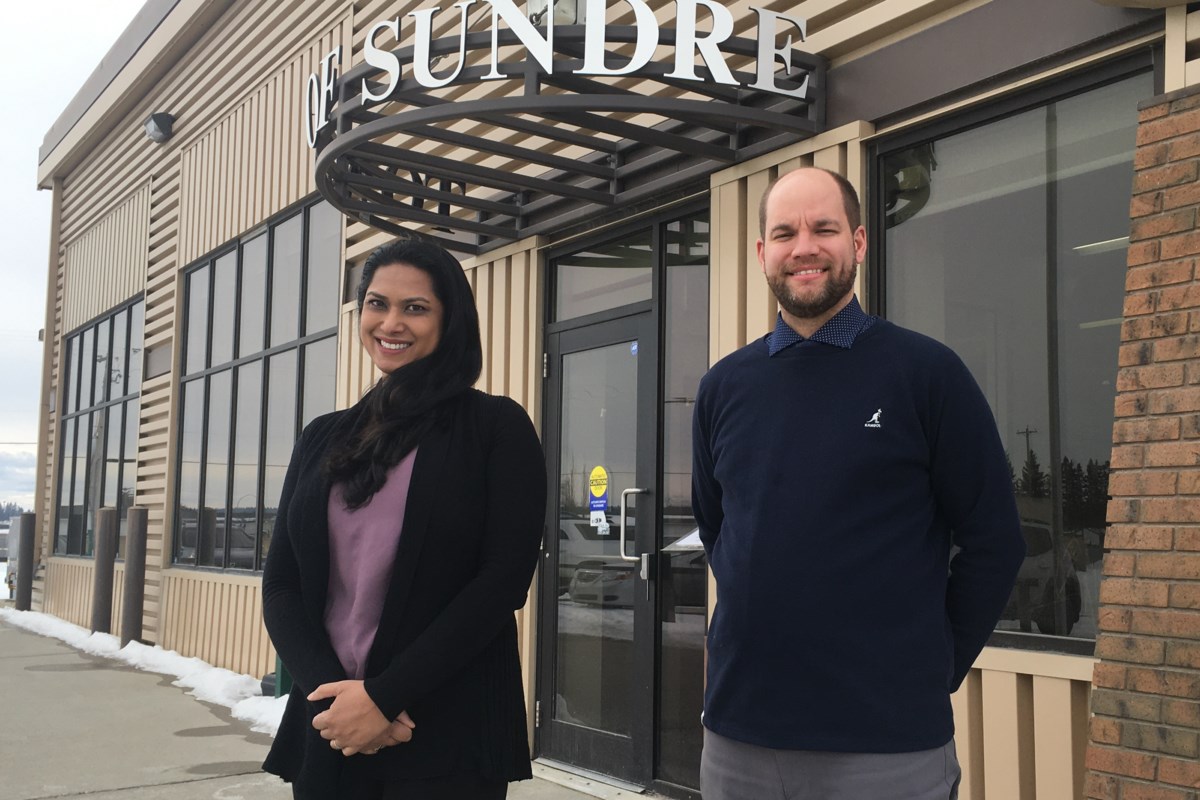 Sundre's administrative team welcomes new employees
Infrastructure Manager and Senior Planner bring broad background experience
SUNDRE — Two new members of the municipality's administrative team bring with them a wealth of background experience to their roles.
Justin Caslor, Infrastructure Manager, and Benazir Thaha Valencia, Senior Planner, together have nearly 25 years of related professional experience.
Caslor, who moved to Edmonton in 2001 from his home in Saskatchewan, graduated from NAIT's Civil Engineering Technology program in 2012 and went on to earn certification in Professional Asset Management Planning. His professional background includes consulting services in civil engineering as well as nine years of municipal service in the fields of engineering, operations and public works.
Having moved to the Calgary area over the past year, Caslor began his new position with the City of Sundre earlier in February.
As Director of Infrastructure, his responsibilities involve managing operations and community services.
"These are two very important areas that contribute greatly to the quality of life in Sundre," he wrote via email in response to a question from the Albertan.
"These areas include water, sewage, solid waste, gas, roads, recreation, parks and trails."
Although still quite early in his new job, Caslor expressed his excitement and said he saw great potential for development and growth.
"I'm very impressed with the quality of the staff and I see a lot of opportunities on the development side," he said. "I look forward to improving the operations and capital planning processes.
Additionally, he said he looked forward to working alongside the new board over the next four-year term to discuss and identify goals, visions and priorities.
Caslor also expressed a sense of passion about participating in a municipality's capital and asset management planning process, which he said is important to providing and maintaining quality public services.
"I love being part of big projects that benefit the public and provide a high quality of life," he said. "Being part of this decision-making and seeing projects come to fruition is motivating."
Master Planner
Thaha Valencia comes to Sundre as a Registered Professional Planner from Alberta as well as a member of the Canadian Institute of Planners with a Masters in Planning which she earned during her more than 15 years of full-time experience. to the town of Chestermere since 2005.
While she had also worked for a few months with Rocky View County before starting her last position, Sundre's new senior planner told the Albertan in a telephone interview she attributes most of her planning experience to her time in Chestermere, which she described as a fast-growing community that prepared her well for the position in Sundre.
Although she grew up primarily in Alberta, her family moved to Canada from Sri Lanka when she was five years old. Arriving first in Montreal, they moved to Calgary about a year later.
Having started at the end of January, she says everything has gone well so far and continues to get to know not only her department better but also her new colleagues.
"Everyone has been really welcoming and friendly," she said.
Along the way, she also learns what she can about Sundre's history and learns about local processes.
Among her main roles, she will oversee and manage the operating and capital budgets of the planning and development department in accordance with the objectives set by the board.
She looks forward to playing her part in helping Sundre grow, as well as working with a team that strives to provide exceptional service to residents and visitors.
"From what I understand it's a growing community," she said, adding that there are exciting and challenging projects to come.
Aware of a variety of interested residential, commercial and industrial developers, she also welcomes participation in efforts to entice potential investors.
"We are laying the groundwork for this," she said, adding that she would coordinate closely with Caslor and city engineers to ensure the groundwork is laid for future development.
Enjoying a good challenge, Valencia said she enjoys dealing with new and interesting projects and people, as well as helping guide potential developers through processes and other land use applications.
Sure, big projects can take time, but patience can pay off.
"When you get high-level demand, it can take years for the ground to be shoveled," she said, adding that seeing those efforts pay off is rewarding.