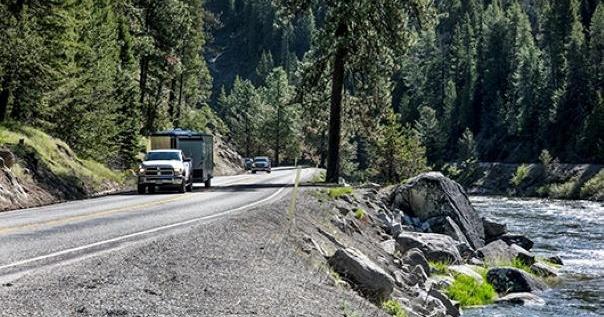 Spring construction on State Highway 55 near Smiths Ferry to resume March 14 | Idaho
SMITHS FERRY – On Monday, March 14, the Idaho Department of Transportation (ITD) will resume work on State Highway 55 between Smiths Ferry and the Rainbow Bridge. At the start of construction, the ITD says drivers can anticipate alternating one-way traffic with 15-minute delays.
Four-hour closings from 10:00 a.m. – 2 p.m. Monday to Thursday will not start until mid-April. ITD will notify the public before the start of the closures.
"We enter spring with lessons learned from last year," said Jason Brinkman, engineering manager at ITD. "We have spent the past winter working with geotechnical experts and the project team to modify designs based on new information gathered after studying areas where landslides have occurred."
In 2021, the project area experienced two landslides which closed the causeway for approximately three weeks, and another smaller landslide in January 2022 which closed the road for a few days. ITD brought in additional geotechnical experts and engineers to help with the reassessment of the project.
To date, crews have removed over 160,000 cubic yards of material from the project area.
The spring schedule is expected to continue until the end of May.