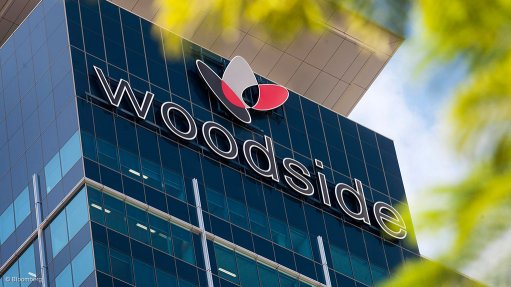 Solid Neighborhood Woodside Posts
PERTH (miningweekly.com) – Oil and gas giant Woodside delivered a strong quarter of production as it prepares for a merger with the diversified oil assets of miner BHP.
Production volumes for the three months ending March were down 1% from the December quarter to 22.3 million barrels of oil equivalent, while delivered sales volumes were down 31. 7 million barrels of oil equivalent to 25.4 million barrels of oil equivalent, in the same period.
Woodside CEO Meg O'Neill said the first quarter continued to deliver strong revenue with increased sales volumes of liquefied natural gas (LNG) produced and revenue of A$2.36 billion.
"The implications of Russia's invasion of Ukraine have reverberated globally, exacerbating already tight energy markets, particularly for LNG. This has led to unprecedented volatility and price spikes to levels not seen since the start of the last decade.
"Revenues were supported by a strong average realized portfolio price of $93/barrel of oil equivalent, despite the overall decline in sales volume due to reduced trading activity in the global energy market currently volatile.
"We expect in the second quarter to see continued benefits from stronger pricing, reflecting the oil price mismatch in many of our LNG contracts," O'Neill said.
She noted that in April important milestones were reached ahead of the shareholder vote on Woodside's proposed merger with BHP Petroleum.
In November last year, the two companies reached an agreement to combine their respective oil and gas portfolios through a stock merger. The expanded Woodside would be owned 52% by existing Woodside shareholders and 48% by existing BHP shareholders.
The merger is subject to the satisfaction of certain conditions, including approval of the transaction by Woodside shareholders at Woodside's annual general meeting on May 19.
"We believe the case for the proposed merger with BHP Petroleum is compelling. It will bring together the best of two successful organizations and provide increased scale, diversity and resilience to deliver shareholder value and ensure Woodside better navigates the energy transition," O'Neill said Tuesday.
"Woodside's Board of Directors unanimously recommends that shareholders vote in favor of the merger.
"The explanatory memorandum and independent expert report, which concluded that the proposed merger is in the best interests of Woodside shareholders, was released earlier this month ahead of the vote, scheduled for our annual general meeting on 19 May Also in April, Woodside filed the required regulatory documents for our secondary listings in New York and London, which are expected to become active upon completion of the proposed merger, scheduled for June 1.
Meanwhile, O'Neill noted that work on the Scarborough and Pluto Train 2 projects began to ramp up in the first quarter with Bechtel, the engineering, procurement, construction and commissioning contractor for Pluto Train. 2, commencing major civil works for the construction accommodation village at Karratha.
"Fabrication of the Scarborough pipeline has begun and we have also exercised a contractual option to manufacture the Scarborough underwater structures in Western Australia," she added.
"Looking ahead, Woodside has signed binding agreements for the long-term charter of three new LNG carriers to be delivered prior to Scarborough start-up. The new vessels will improve the cost competitiveness and energy efficiency of Woodside's fleet.
"In Senegal, Phase 1 development of the Sangomar field is now over 50% complete and remains on track for targeted first oil in 2023. Subsea equipment manufacturing is progressing and the second drillship , the Ocean BlackHawk, is expected to begin operations in mid-2023-2022.
"An important transition point in the history of the North West Shelf project was achieved in March with the start-up of the interconnecting Pluto-Karratha Gas Plant (KGP) pipeline, allowing for the first time the processing of gas third largest in Australia LNG production facility.
"The start of the Pluto-KGP interconnector supports accelerated gas production from the first phase of Pluto's Pyxis hub, which is now operating and achieving targeted gas flow rates and in recent days the first LNG cargo produced via the interconnect has been loaded.
"The Julimar-Brunello Phase 2 is now in stable operating condition and in April, the Phase 3 project on the western flank of the Northwest Plateau was ready for start-up ahead of schedule."
O'Neill noted that work also continued on new energy opportunities at Woodside.
"Our collaboration with Heliogen has also deepened with our agreement to deploy a 5 megawatt electrical module of the US company's AI-enabled concentrated solar power technology in California, as well as joint commercialization of Heliogen's renewable energy technology in Australia.
"We have launched a carbon capture and utilization (CCU) collaboration with US-based technology developers ReCarbon and LanzaTech to investigate the viability of a proposed CCU pilot facility in Perth," he said. she stated.