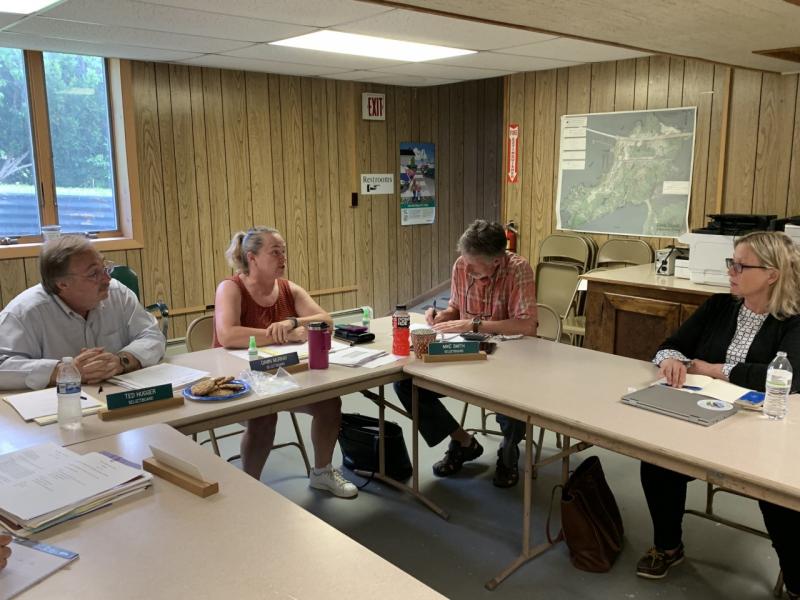 Selectmen concerned about the impact of the Highway 1 construction project on safety
On July 12, Edgecomb Select Board Chair Dawn Murray described a recent driving experience on US Highway 1. She described the traffic as an impending accident.
Murray was slowly advancing along US Route 1 coming back from Damariscotta. She expected congested traffic and a longer wait than usual due to summer construction. But his wait far exceeded the five minutes estimated by the Maine Department of Transportation for delays before the project began. Murray recounted how she tried to allow a truck carrying a large boat to blend into the American Highway 1.
"I knew he would be in trouble so I let him in. Before he had a chance, four or five cars passed through a recovery lane. It's only a matter of time before there is a major accident because people are so frustrated, "she said.
Even though Murray hadn't witnessed the congested traffic, she and fellow board members Mike Smith and Ted Hugger are familiar with the problems residents face along the Highways 1 and 27 project in the United States. They all said they had received numerous emails and phone calls. So far, MDOT has failed to deliver on promises made before construction or any new complaints regarding the current situation, selectmen said.
So the board called on State Representative Holly Stover D-Boothbay to help them ask for more help from the state. Hugger told Stover the scope of the project had changed without MDOT officials asking the city for advice. He said he was also frustrated that the MDOT did not keep its promises.
"I don't believe a word of what they say," Hugger said. "We have been constantly receiving erroneous and inaccurate information since April. The project was to start in the spring. We heard it was delayed due to an environmental issue involving a stream. Later we find out that it was not a stream, but a well. The project was therefore delayed for nothing.
Stover told some men she understood their concerns and had already contacted MDOT officials. Project manager Ernie Martin was unable to attend the board meeting because he had already committed to Bangor. Stover assured the Martin selectmen would contact them on July 13 regarding their concerns. Stover is also working with MDOT to improve the condition of Route 27. MDOT has placed Route 27 on a two-year maintenance waiting list. But Stover agrees with city officials that Highway 27 will not last two years. "The road is collapsing and I'm worried about more single vehicle accidents," she said.
Lincoln County Sheriff Todd Brackett has not reported any increase in traffic accidents on Route 1 or Route 27 in the United States. But he told select men he was prepared to provide additional temporary signs to divert traffic from back roads. "We cannot enforce road signs only without a city ordinance, so the sign can deter motorists from using secondary roads," he said.
On July 13, Martin contacted Murray about the board's concerns and Martin pledged to post a temporary "No driving." Local traffic only 'sign on Eddy Road. He also reported that the contractor, Sargent Corp. of Stillwater, had been asked to monitor delays more carefully and that the MDOT had issued a press release warning of traffic delays at the intersection. A team would also install a culvert on McKay Road to fill a sink hole.
On July 14, Martin announced that overall, the project was on track to meet its completion dates in early September for the Highway 1 and 27 construction project and in early October for the Eddy Road.
"The project is on track and we have not received any complaints from the public. We're back to 2019 traffic levels, "said Martin. "" I think everyone on all fronts is trying to improve the situation and there is no quick fix. It's just a typical summer road construction project in Maine. "
In another action, selectmen met with Bath firm's auditor Fred Brewer William H. Brewer & Co. an hour before the regular meeting. Brewer reported that Edgecomb ended the year with a positive balance of $ 808,586.98. City officials said the figure is about $ 120,000 more than last year and two-thirds of the mark proposed by the Maine Municipal Association for Small Towns like Edgecomb.
Selectmen also wants to start talks with Lincoln County Ambulance to extend their contract for five years. Edgecomb pays $ 17,000 a year and with two years remaining on their current pact, Smith advised the board to start a conversation about a possible extension. Selectmen also approved an easement for a Central Maine Power pole permit. Last month, Irving and Melissa Locke applied for an easement to provide electricity gain to their McKay Road property. The CMP pole is located on land belonging to Edgecomb. Selectmen filed the application last month to search for ownership of the adjacent property.
The Selectmen then meet at 6 p.m. on Monday July 26 at the town hall.