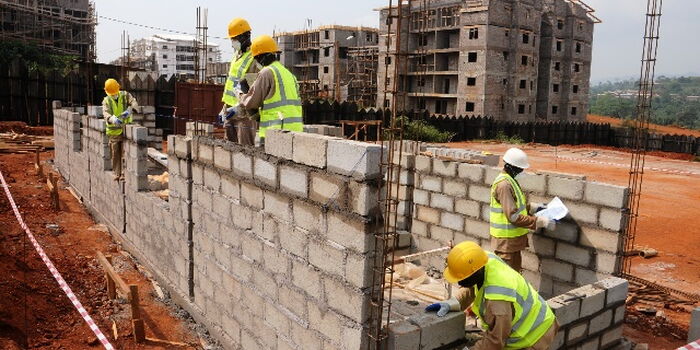 Rise in defective buildings: Government questions construction approval process
The government has issued a three-step directive for the construction industry following an increase in cases of building collapses.
In a notice printed in local dailies, the National Construction Authority (NCA) detailed the guidelines that Kenyans wishing to build houses should follow.
The stages have been categorized into three stages mainly, pre-construction, construction and post-construction.
Preconstruction
The Lamu County Government Headquarters under construction in Mokowe.
everyday people
NCA reiterated that the first stage of construction begins with consultation with registered and qualified personnel. This involves having an architect draw the design of the building.
"Only professionals registered with their respective regulatory bodies can design drawings for construction. These include architects, structural engineers and quantity surveyors, planners, mechanical and electrical engineers ", we read in part in the notice.
A prospective home and commercial property owner is then required to obtain statutory approvals from various government agencies.
This includes county government and the National Environmental Management Authority (NEMA). Contractors building next to airports must seek approval from the Kenya Civil Aviation Authority (KCAA).
After obtaining approval, the project must then be registered with the NCA. The building owner thus submits the details of the duly registered contractor, project managers, architect and surveyor.
Also presented at this stage include the approved house design, physical planning forms, approvals by other statutory bodies, summary of building quantities, Kenya Revenue Authority (KRA) pin and an agreement signed with the contractor.
During construction
After approval by the NCA, the construction process begins with officials from the county government and the NCA who must perform regular checks to ensure that the construction process is carried out according to regulations.
Some of the items inspected include; the presence of a registered contractor, a sign indicating all approvals, a register of professionals on site, safety signs, protective equipment, a certificate of conformity.
The skills of the workers involved in the construction are also checked.
after construction
After the building is completed, the project developer must obtain a certificate of occupancy from the county government before people can begin to occupy the building.
File image of the building that collapsed in Gachie, Kiambu County on Monday August 30.
Twitter