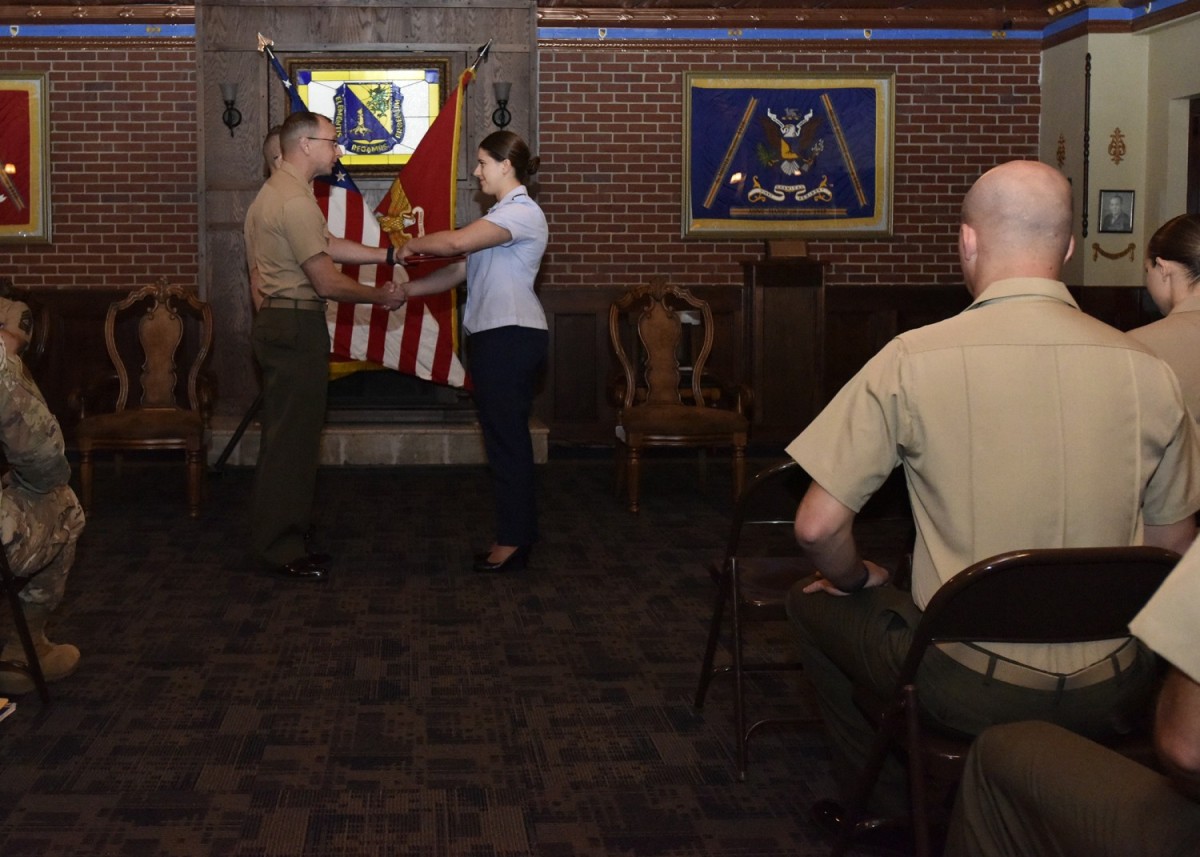 Officer experiences at Navy CBRN course here to help shape CBRN training for Air Force junior officers | Article
FORT LEONARD WOOD, Mo. – The Marine Corps Basic Chemical, Biological, Radiological and Nuclear Warrant Officer Course held a graduation ceremony today in the CBRN Regimental Hall of the John B. Mahaffey Museum Complex.
During the ceremony, seven naval non-commissioned officers and two air force officers received their diplomas. Although joint service training takes place all the time here, this was a unique opportunity for the Air Force, as the experiences of these two officers will help shape how junior Air Force leaders are educated. on their CBRN functions in the future.
Air Force Colonel Thomas Bongiovi is the chief of the Civil Engineering Readiness Division for the United States Air Force Joint Chiefs of Staff, responsible for the Army Readiness Program of air for engineers, which includes explosive ordnance disposal, fire emergency services, and CBRN emergency management and defence. He attended the graduation and said the Air Force believes very strongly that joint training and exercises are critical to readiness.
"There are great benefits to (working with the other services)," he said. "Interoperability in the context of the deployed environment of warfare is what we are all preparing for. It's a perfect example here at Fort Leonard Wood, an army installation with a maritime training program – with all branches represented here. We believe that the relationships and familiarity they will gain through this type of training environment will benefit them.
Bongiovi called this end of the course a "pilot test case," with the aim of sending more junior officers to take this course – or something like that – in the near future.
"We re-emphasized our investment in developing our CBRN defenders, to include our officers and NCOs," he said. "We thought it could produce synergies and collaboration that would help both of us."
One of the Air Force attendees was Major Clark Smith, who was assigned to help Bongiovi's office with the transition. Although he is no longer a junior officer, Smith said having this type of education would have benefited him as a lieutenant.
"About 10 years ago I entered the emergency preparedness and management flight at Peterson Air Force Base (in Colorado Springs, Colorado)," he said. "I didn't have a course to learn this CBRN trade. Now, as I go through the course, I think back to my experience as a lieutenant and think to myself, "That would have been beneficial." Not just for credibility, but to know that these are the real things I need to be prepared to advise a commander on.
Smith also said the Air Force has evolved quite a bit over the past decade, making partnerships with the Marine Corps all the more ideal.
"We're looking at more of an expeditionary mindset in different areas and for different reasons and for different threats, so integrating with the Marines for several months, they really have that expeditionary mindset," he said. . "I think it's great to get inside their heads and understand how they make decisions, because there are some things that we might not think about or think about the same way."
For Air Force 1st Lt. Rita Bowen, who was the class's distinguished graduate, what she learned throughout the course will serve her well in her next role as a civil engineering officer at Hill Air Force Base, Utah.
"They thought it would be helpful for us to see how the Marines do it," she said. "We were also able to find out a bit about how the army does it as well. I've never had the opportunity to work with the Marines before, and any time you can interact with another service and build that mutual respect and understand a different perspective, that's invaluable, especially as an officer of enterprise level.
Marines also benefit from the experience, said Marine Master Sgt. Christopher Hollenshead, program designer and one of the advanced CBRN course instructors here.
"I think the benefit is that we get a different perspective, from a sister service," he said. "As Marines, we have our perspective on how things should be with CBRN and how we operate, and it's completely different on the Air Force side. So it was really good to see their perspective on all things CBRN. I think a lot of us taught them and then they taught us.