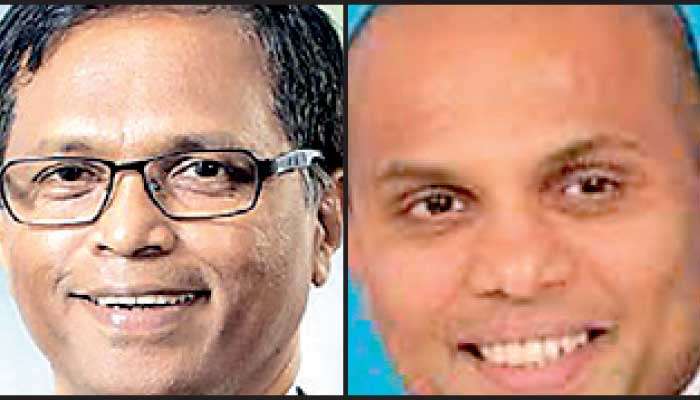 New President, Vice President of ComBank
President Prof. AKW Jayawardane (left) and Vice President Sharham Muhseen
---
Commercial Bank PLC has announced the appointment of a new Chairman and Vice Chairman effective March 1. The current Vice President, Prof. AKW Jayawardane will be the new President, succeeding Justice K. Sripavan who is retiring, while Sharham Muhseen will be the new Vice President.
Justice Sripavan was appointed Chairman on December 21, 2020 as he joined the Board in April 2017. Prof. Jayawardane has been a member of the Commercial Bank Board since April 2015 and was appointed Vice Chairman in December 2020.
Jayawardane served as Vice Chancellor of the University of Moratuwa until November 27, 2017 and is a Senior Professor of Civil Engineering as well as a highly regarded academic. He was Dean of the Faculty of Engineering for six years at the University of Moratuwa.
He holds a PhD in Construction Management and an MSc in Construction from Loughborough University of Technology, UK and a BSc Eng. Civil Engineering degree with first class honors from the University of Moratuwa.
Also Corporate Fellow, Fellow and International Professional Engineer of Institution of Engineers, Sri Lanka (IESL), CEng, FIE (SL), IntPE (SL), Fellow of National Academy of Sciences of Sri Lanka, FNAS (SL) , Founder Member of Society of Structural Engineers Sri Lanka MSSE (SL), Fellow of Institute of Project Managers, Sri Lanka, FIPM (SL) and Life Member of Sri Lanka Association for the Advancement of Science.
Vice Chairman Muhseen was appointed to the Board in February 2021. He is a senior investment banker with extensive experience in mergers and acquisitions, corporate finance and capital markets, which Has held a leadership position on the boards and management teams of financial institutions across Asia to help drive their corporate strategic agenda and roadmap.
During his more than 20-year career in investment banking, he has completed landmark mergers and capital-raising transactions of more than $100 billion. Merrill Lynch and Credit Suisse's Asia FIG sector team won Asset magazine's "FIG Asia House of the Year" award for several years under his leadership. Several transactions he has led have been awarded as the best national transactions and the best capital-raising transactions in the financial sector.
He holds a master's degree in economics from the University of Colombo, a bachelor's degree in business administration (Hons) from Western Michigan University, and completed the corporate finance training program at JPMorgan in New York. .
Previously, Muhseen worked at top global investment banks, Credit Suisse, Bank of America Merrill Lynch and JPMorgan in top regional coverage roles. His most immediate previous role was as Managing Director, Head of Southeast Asia Financial Institutions (FIG) Group and Head of Asia Insurance at Singapore-based Credit Suisse. He was associate director of Deloitte.