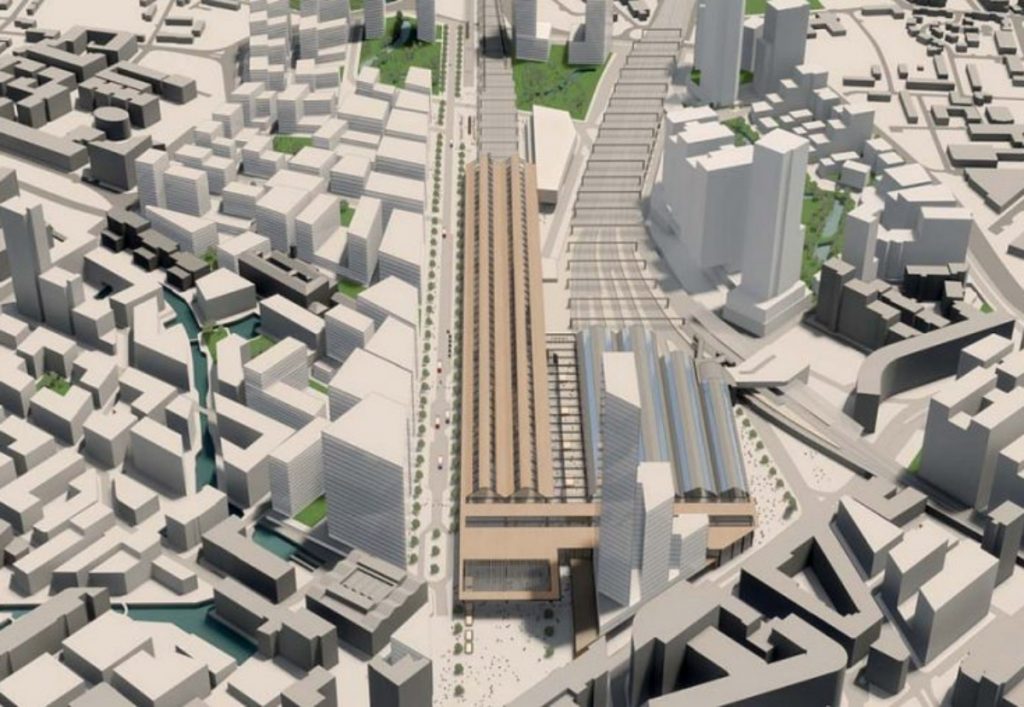 HS2 acquires the necessary land at Manchester station
HS2 Ltd has acquired its second development site in Manchester as part of plans to build the city's new high-speed rail station.
HS2 Ltd has struck a deal with Bruntwood, one of the UK's leading property providers, to buy Square One on Travis Street.
The sale marks HS2's second major property acquisition in the city center in just over 12 months, following its purchase of the Store Street site in April 2021.
Both sites have been purchased by HS2 on behalf of the Department for Transport and are essential to the creation of the new high-speed station which will be built next to the existing Piccadilly station.
Manchester's new station is due to open between 2035 and 2040 and features six platforms at surface level, allowing passengers to access both HS2 services and future NPR services. The plans also include provisions for a new four-platform Metrolink station below the HS2 station.
HS2 Ltd Chief Commercial Officer Ruth Todd said the acquisition "represents another major step in our program to bring high-speed rail to the North".
She added: "The purchase of Square One by HS2 is a vote of confidence for local and international investors to tap into the wider regeneration potential of the surrounding area, knowing that Manchester is about to become so brilliantly connected. ."
Much of the area surrounding Piccadilly Station is undeveloped, making it a prime location to invest in new commercial space, housing and public spaces.
The investment would allow businesses, residents and visitors to benefit from a 41-minute connection to Birmingham on HS2 (a saving of 46 minutes), with direct services from London Euston cut by more than half, cutting by one hour and 12 minutes the current fastest travel time. .
Bruntwood, which sold Square One's site to HS2, has already announced its ambition to use the proceeds to continue investing in regional centers across the UK.
Bruntwood Director of Asset Management Pete Bearpark said the company is "committed to creating thriving places and communities".
He added: "After 15 years under Bruntwood's stewardship, we have agreed to sell Square One and the land surrounding it to HS2 prior to a formal binding purchase process.
"We will use the proceeds to continue to reinvest in regional cities to drive economic growth and positively impact businesses and communities."
Early construction work on the new Piccadilly high-speed station is not expected to start until at least 2025. HS2 has agreed lease terms with existing Square One tenants to allow them to remain in place until the site is required.
It comes after Transport Secretary Grant Shapps said the government had concluded its investigation into the value of an underground station in Manchester Piccadilly to accommodate HS2 services and determined it "didn't work".
The plan for an underground station at Manchester Piccadilly has been promoted by railway engineers and planners as a means of maximizing the potential connectivity and value of the HS2 station. The November Integrated Rail Plan (IRP) made it clear that the government's preference was for a surface-level 'rollback' station, but the decision was not final.
With HS2 Phase 2b being worked on by Parliament, it was thought there was still time for the Government to have a serious discussion about the possibility of creating an underground Piccadilly before it receives Royal Assent.
In recent months, Manchester City Council and Manchester Mayor Andy Burnham have separately urged the government to consider it. It was also pointed out that the surface station will require the shutdown of a crucial city center tram line for two years, while the underground station would avoid this inconvenience.
Do you like what you read? To receive daily and weekly New Civil Engineer newsletters, click here.