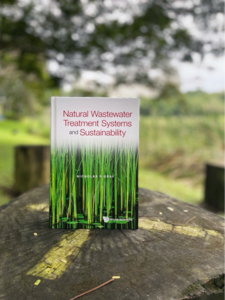 Durable, low-emission options for
The number of treatment plants reporting malfunctions, resulting in the release of raw or partially treated wastewater to surface water, has never been higher. Therefore, conventional energy-intensive treatment systems such as activated sludge are constantly modified and modernized to treat ever increasing loads in order to avoid pollution. This, and meeting higher effluent quality standards, results in a significant increase in carbon emissions from treatment systems. Thus, conventional treatment is at a crossroads where new sustainable solutions are needed to protect the quality of our rivers, estuaries and seas.
Nature-based treatment is the topic of the second book in a series on the biology of wastewater treatment published by World Scientific. Natural wastewater treatment systems and sustainability
Natural wastewater treatment systems, which primarily employ plants and soil microorganisms, are essentially nature-based solutions and, where appropriate, can offer sustainable, low-emission options for a range of problems. wastewater, protecting surface water as well as creating new habitats to support and enhance wildlife biodiversity. In terms of circularity, natural processing systems also have the potential to produce an impressive array of useful and valuable by-products, including compounds of great value to the pharmaceutical industry. Micro-algae and cyanobacteria are at the forefront of this revolution.
Aimed at environmental engineers and scientists at all levels who want to learn more about sustainable wastewater treatment and the use of nature-based natural treatment solutions and systems, Natural wastewater treatment systems and sustainability retails for US $ 158 / £ 140 (hardcover) and is also available in electronic format. This manual is a good reference book for undergraduate and postgraduate students, as well as useful for wastewater engineers, scientists, and consultants.
To order or learn more about the book, visit http://www.worldscientific.com/worldscibooks/10.1142/Q0320.
###
About the Author
Professor Nick Gray has worked primarily in the field of biological wastewater treatment for almost forty years, working primarily on large scale treatment systems in Ireland and abroad. The main focus of his work is the design and operation of reactor processes, and in their microbial ecology. The work has been published in over 180 scientific publications, including 14 books. After his first degree in microbiology and biochemistry and a master's degree in conservation management, he did a doctorate in civil engineering, working on the design of fixed film reactors. His work on river decontamination has always taken place in parallel with his work on wastewater treatment, dealing in particular with complex pollutants and their effects. He was a founding member and former director of the Environmental Sciences Unit at Trinity College Dublin (University of Dublin), now the Trinity Center for the Environment, where he was instrumental in developing the first professional master's course in environmental sciences and participated in the establishment of the Environmental Protection Agency in Ireland.
About World Scientific Publishing Co.
World Scientific Publishing is a leading independent international publisher of books and journals for the academic, research and professional communities. World Scientific collaborates with prestigious organizations such as the Nobel Foundation and US National Academies Press to bring high quality academic and professional content to researchers and scholars around the world. The company publishes around 600 books and over 140 journals in various fields annually. To learn more about World Scientific, please visit www.worldscientific.com.
For more information, contact WSPC Communications at [email protected]
---
Warning: AAAS and EurekAlert! are not responsible for the accuracy of any press releases posted on EurekAlert! by contributing institutions or for the use of any information via the EurekAlert system.