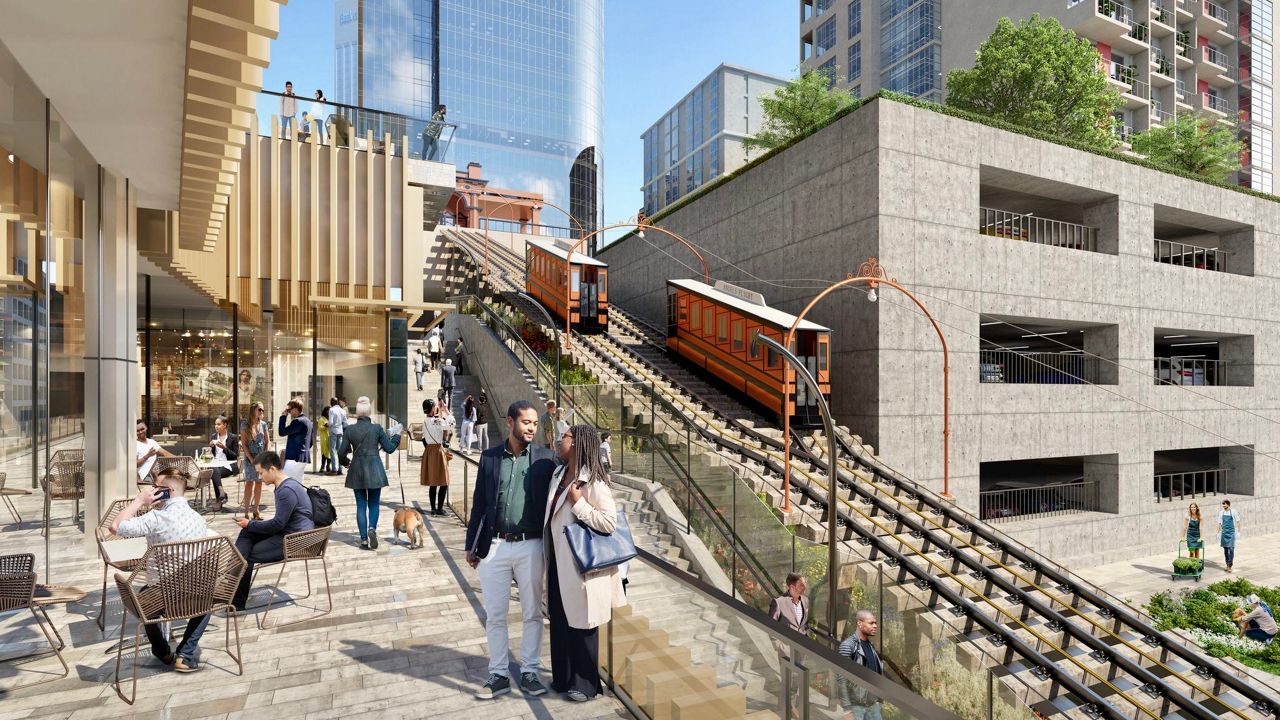 Construction for $1.5 billion of Angels Landing to begin soon
LOS ANGELES — Construction of Angels Landing, a planned $1.5 billion mixed-use skyscraper in downtown Los Angeles, is expected to begin construction within the next two years.
Victor MacFarlane, president and CEO of MacFarlane Partners, told Spectrum News that his team received rights from the City of Los Angeles Planning Department, paving the way for the pre-development process to continue and the construction will start soon.
MacFarlane said they hope to complete the project by the 2028 Olympics in Los Angeles. Handel Architects designs the project.
"Finally, after five years, the project is fully entitled," MacFarlane said. "We crossed [the] CEQA [California Environmental Quality Act] to treat. It's sealed and done. Now we are doing the finishing touches and starting pre-development."
The Angels Landing development at Fourth and Hill streets is adjacent to the Angels Flight Railroad, a city landmark, in the downtown Bunker Hill neighborhood.
The mega-development, which sits on a slope, will feature two separate skyscrapers, one at 854 feet and 88 stories and the other nearly 500 feet and 42 stories.
Once built, the 1.2 million square foot project on a 2.24 acre site will include two luxury hotels, condominiums, apartments, retail stores and restaurants, and even a charter elementary school. The site will also include a square with a private park open to the public.
MacFarlane Partners, Peebles Corp. and Claridge Properties beat several big wigs in 2017 to develop the city-owned land.
The joint venture developers made diversity, equity and inclusivity a priority when developing the project, MacFarlane said.
MacFarlane said his team is committed to reaching a goal of at least 30% minority and women-owned businesses for the construction of the project.
"Too often, minorities and women have been excluded from the economic world and real estate development," MacFarlane said. "We make special efforts to ensure that we are inclusive."
Their team has also pledged to use union labor and set aside a number of apartments as affordable housing.
Developers quoting BJH Advisorsexpect over 8,300 temporary jobs to be created during construction of Angels Landing and over 800 permanent jobs once it is built downtown.
Initially, the developers had wanted to complete Angels Landing in 2024, but the lengthy CEQA process and the coronavirus pandemic delayed the project.
He said the rising cost and supply chain issue could be a problem, but they are determined to see the project through.
"Building costs are ridiculous right now," MacFarlane said. "[Project cost] probably increased by $100 million since the start of the pandemic."
Yet, they have a vision to complete this project and present it to the world during the 2028 Summer Olympics.
"We believe in downtown Los Angeles," he added. "We think it could be one of the economic drivers for the city."