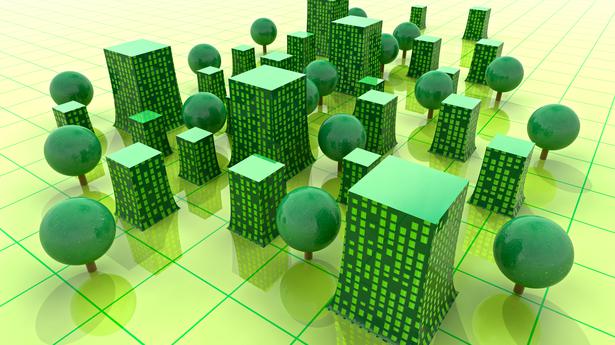 Building Green Homes: Planet Before Profit
Studies show that green buildings can save up to 30% energy and 50% water. Builders can switch from using energy to renewable sources during the construction phase itself

Studies show that green buildings can save up to 30% energy and 50% water. Builders can switch from using energy to renewable sources during the construction phase itself

As the second job generator, the contribution of the real estate sector to the growth of the national economy is not new. In recent times, with people realizing the importance of owning a home, there has been a structural transformation in housing demand, which has further boosted the sector. A recent report titled "Real Estate Industry: Outlook and Challenges" by Infomerics Valuation and Rating confirms that the Indian real estate sector is on track for high and sustained growth of over 75% year-over-year over the next three years. An IBEF report also highlights that the industry is expected to reach a $1 trillion market by 2030 and contribute 13% to GDP by 2025.
This ladder of growth offers an unprecedented opportunity to shift from archaic, resource-intensive development approaches to a more climate-conscious, low-carbon approach. There is no reason to lock in immense amounts of carbon emissions in the urbanization that is happening in this watershed decade when the most aggressive decarbonization is the need of the hour. Additionally, according to the United Nations Environment Program, the construction and operation of buildings contributes approximately 40% of total global carbon emissions. Real estate can therefore be the vector of great changes through its innate existence in all concerns centered on sustainability.
Eco-responsible solutions

There is a noticeable shift among today's consumers to lead a sustainable lifestyle. Additionally, educated and responsible homebuyers are increasingly welcoming eco-responsible real estate solutions, in addition to preferring buildings certified green by Grade A developers. According to a CBRE South Asia report, the India has seen a 31% increase in green real estate assets in the six major cities – NCR, Mumbai, Pune, Hyderabad, Bengaluru and Chennai – over the past decade.
Studies show that green buildings can save up to 30% energy and 50% water. Through sustainable design, construction and operation, green buildings are climate resilient, use less water, make optimal use of energy, conserve natural resources, generate less waste and enhance biodiversity. As a result, they ensure a better livability quotient by providing better ventilation, adequate daylight, superior air quality and general well-being. From an economic perspective as well, green homes reduce building operating costs, improve productivity and efficiency, and provide higher return on investment, higher asset/rental value, discounts on property taxes and savings on recurring costs like electricity, water, medical bills, etc. , bills.
Developers should set science-based decarbonization targets. These objectives also inaugurate innovation and competitiveness in the field. Ultimately, saving resources reduces costs and makes the development as well as the developer resilient to policy changes, unlocking value and protecting future growth. Developers should also consider climate science to assess physical climate risks that affect the geography where they are developing their properties.
Successful pilot projects can provide opportunities to develop workable solutions and achieve significant emission reductions. The whole process can be formulated in accordance with internationally recognized accounting and reporting standards, such as the GHG (greenhouse gas) protocol. Exploiting the entire life cycle of the building is important in this regard; this can help provide clear objectives for each impact category and each stage of the project.
Respectful materials

To reduce GHG emissions and green the project lifecycle, lead developers can also switch energy use to renewable sources during the construction phase itself. Concepts of circularity such as "reduce, reuse, recycle" should be central to the design of green projects with increased integration of environmentally friendly building materials. The government and regulators have also taken several steps to incentivize and encourage sustainable business practices in real estate. An allocation of ₹19,500 crore has been allocated by the central government in the 2022 Union Budget to boost the manufacturing of solar modules under its flagship Production Linked Investment (PLI) scheme. Government policies and investor attention are driving developers committed to climate-adaptive and green developments. Additionally, a partnership ecosystem is critical to achieving sustainability goals, with city regulators playing a key role in enabling the decarbonization of the built environment alongside investors, owners and occupiers. Broader stakeholder engagement can accelerate the achievement of net zero goals.
With the saying "planet over profit" gaining prominence, sustainability as an economic risk has become the main topic of discussion in corporate boards. Responsibly built green developments can contribute significantly to India's vision of reducing its total carbon emissions by one billion tonnes by 2030 and reaching its goal of net zero by 2070. A JLL report titled "Sustainable Real Estate: India's Response to a Greener Future" reveals that 81% of respondents view real estate as a game-changer in achieving the sustainability agenda. As a rapidly transforming business landscape seeks to align with the low-carbon economic agenda by embracing aggressive net-zero carbon goals, the real estate sector must stand tall and be at the center of these systemic developments to a greener future.
The author is ESG Leader, Lodha.