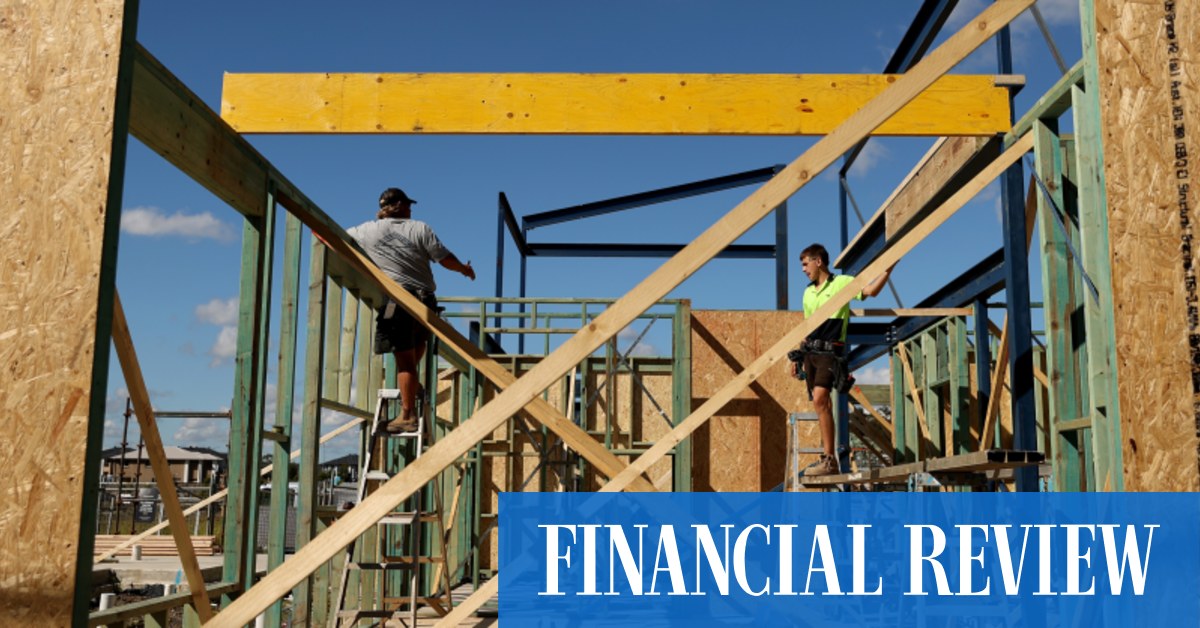 Boral, Reece and CSR among hardest hit by 2023 downturn
But then a "traditional steep drop in demand" should follow beyond that point.
Morgan Stanley expects concrete, asphalt and quarrying supplies group Boral and bathroom and fittings group Reece to be the hardest hit by the contraction.
But it lowered its share price targets for all major ASX construction stocks in anticipation of tougher times.
Historically, the start of an interest rate tightening cycle has been a "strong leading indicator" of an inflection point in construction activity, Scott said.
The lag effect
The HomeBuilder package, announced by the Morrison government in June 2020 in response to the COVID-19 pandemic, has generated a lot of requests. But as construction of HomeBuilder-financed homes begins to kick off, there is a risk of a gap in demand.
This was also reinforced by a lag in the effect of no migration during the pandemic, where the number of new migrants arriving in Australia effectively fell to zero in 2020 and 2021.
While migration was gradually returning, it takes 18 to 24 months for a new migrant to become a homeowner.
Morgan Stanley also pointed to sharp increases in raw materials and labor costs for homebuilders that had put "significant pressure on builder profitability" and resulted in a series of insolvencies.
This has prompted greater caution from potential customers in the area who may be considering signing up for a new home.
Mr Scott said a typical sharp downturn in the cycle now appeared to be on the way and a "soft landing" was unlikely.
Morgan Stanley cut its 12-month price target for Boral, 72.6% owned by the billionaire Stokes family, from $2.50 to $2.20. Reece was reduced to $11 from $12.20.
Cement group Adbri, whose board forced the departure of chief executive Nick Miller two weeks ago after a sharp drop in profits, has a 12-month price target of $1.60 from $1.70 . Shares of Adbri were at $3.03 in early May.
Fletcher Building, which operates brands in Australia including Tradelink plumbing and bathroom supplies, Stramit roofing and structural steel, Iplex pipes and Tasman Sinkware, was cut to a 12-month price target $5.90. It is listed on both the ASX and the New Zealand Stock Exchange.
Reduced price targets
CSR, which is due to report its half-year results on November 4, was reduced to $4.80 from $6.20. CSR's stable of building products includes Gyprock plasterboard, PGH bricks, Monier roofing, Hebel lightweight building blocks and Bradford insulation.
James Hardie Industries, where a new chief executive, Aaron Erter, has just taken the helm, was given a 12-month target of $43, down from $46 previously.
Morgan Stanley said while it expected tough conditions for all domestic exposures to building materials stocks, it still rated James Hardie, plumbing supplies group Reliance Worldwide and Fletcher Building "overweight." due to their greater exposure to the renovation market.
Boral and Reece had the highest valuations and had "underweight" recommendations.
Morgan Stanley said the HomeBuilder program was initially expected to take about 27,500 applications and cost $688 million. But it was not capped and in February 2022 the total number of grants awarded was 138,000, made up of 113,000 new construction and 25,000 renovation projects. The total dollar value of the grants was $2.1 billion.